Are you shopping for the perfect engagement ring? Lab-grown diamonds and moissanite are two popular options, but which is best for your unique situation? This article will explore their similarities and differences to help you make an informed decision about the right choice for your special day.
Well-discuss factors such as color, clarity, cost-effectiveness, and sustainability so that you can determine what works best with your budget and style preferences. With a better understanding of how these two gems differ from each other in terms of beauty and practicality alike, you will be able to make an educated decision on which one would be the ideal choice for your engagement ring.
Comparing Lab Grown Diamonds and Moissanite
When it comes to deciding which gemstone is the best choice for your engagement ring, lab created diamond, and moissanite are two of the most popular options. Lab-grown diamonds are created in a laboratory and have many benefits that make them an attractive option including being conflict-free, eco-friendly, and more affordable than mined diamonds. Moissanite is a naturally occurring mineral composed mainly of silicon carbide that has become increasingly popular due to its eye-catching sparkle.
When comparing these two stones side by side there are several factors to consider. One important factor is price; although both stones may be less expensive than their mined diamond counterparts, lab-grown diamonds tend to cost slightly more than moissanite at comparable carat sizes. However, due to their unique properties such as increased clarity and colorlessness, lab-grown diamonds offer superior quality compared to moissanite making them worth the extra expense for some buyers who desire higher quality gems for their engagement rings. Another key difference between these two stones lies in their appearance – while both possess incredible luster and shine that can mesmerize any onlooker, they each present with different characteristics when viewed up close or under direct lighting conditions.
Lab-grown diamonds demonstrate exceptional brilliance and fire whereas moissanites have a rainbow effect known as dispersion that makes them appear brighter overall but lacks the same level of sparkle found in lab-grown diamonds. Finally, durability should also be taken into consideration when considering either stone type; while both types are considered very hard materials on the Mohs scale (lab growing diamond at 10 & Moissanite at 9 ½), moissanite tends to fare better over time with fewer scratches or chips likely due its higher hardness rating relative to other gemstones including those mined from natural sources like quarries or riverbeds.
Furthermore given proper care & maintenance this material is highly resistant to chemicals making it much easier to clean safely without fear of damaging its structure or clarity levels over time. In conclusion, both lab-grown diamond sand Moisanitepossess impressive qualities that make them ideal choices for anyone looking to purchase an engagement ring; however depending on what you prioritize most -whether its price, clarity/colorlessness effectiveness or durability – one might come out ahead of the other based on your needs& preference leading you to make a decision about which gemstone might fit best for your special day!
Pros and Cons of Each Option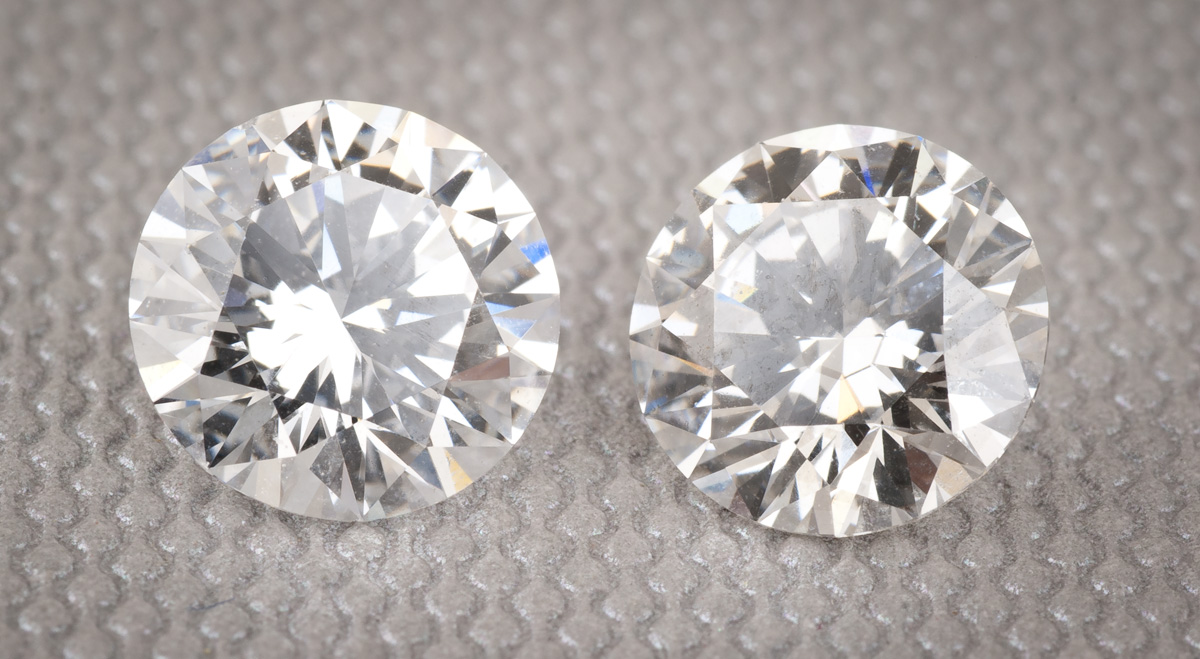 When it comes to picking the perfect engagement ring, there are two main contenders: Lab-Grown Diamonds and Moissanite. Both options offer their own unique set of benefits and drawbacks that must be considered when making the best choice for you. Lab-Grown Diamonds Pros: Lab-grown diamonds go through a process in which carbon atoms are arranged into a diamond structure, resulting in an identical chemical makeup as mined diamonds. This makes them just as hard and durable while being ethically sourced due to not requiring mining or exploitation of natural resources. They also tend to be less expensive than mined diamonds since they can be produced faster without compromising on quality.
Lab-Grown Diamonds Cons: Though lab-grown diamonds are chemically identical to mined ones, some jewelers may view them with skepticism since the production process is relatively new technology. Additionally, some gemologists may not have experience grading these stones so finding out their exact worth can prove difficult at times. Moissanite Pros: Moissanite is made from silicon carbide crystals which have similar optical properties to diamond but have more fire (the sparkle effect) due to its high refractive index. There's no need for ethical concerns either since moissanite doesn't require mining or exploitation of any type – all thanks to modern science! Plus, moissanite rings tend to cost much less than those set with real diamonds yet still look quite impressive when done right!
Moissanite Cons: Despite having excellent qualities compared to traditional diamond rings, they do come with certain cons such as scratch resistance being slightly lower than expected; however this usually isn't noticeable unless inspected closely by experienced professionals or if used frequently enough over time (such as daily wear). Also, keep in mind that even though moissanite looks like a diamond at first glance it won't hold its value like one over time so the resale value could potentially decrease significantly if desired later on down the road…
Clarity, Hardness, Sparkle, & Cost Considerations
When it comes to choosing the best diamond for your engagement ring, clarity, hardness, sparkle, and cost are all important considerations. Clarity refers to how many blemishes or inclusions a diamond has; those with fewer imperfections tend to be more expensive. Hardness is measured on the Mohs scale and indicates how durable a diamond is when subjected to everyday wear and tear; diamonds have the highest rating of 10 on this scale.
Sparkle depends on both cut and clarity; a well-cut diamond will reflect light better than one that has been cut too shallowly or too deeply. Cost can vary widely depending on carat size—the larger the stone, the higher its price tag—as well as other factors like color grade or origin of the stone. Lab-grown diamonds offer an alternative to mined stones that allows you to get a high-quality product at a lower cost without sacrificing any of these four key criteria: clarity, hardness, sparkle, and cost.
The Best Choice for Your Engagement Ring
When it comes to deciding on the best choice for your engagement ring, lab-grown diamonds and moissanite are two of the most popular options. While both materials can offer stunning results, they come with their unique strengths and weaknesses. Lab-grown diamonds have emerged as a more sustainable alternative to mined diamonds, while Moissanite is known for its incredible light refraction that gives it an unbeatable sparkle.
To help you make an informed decision about which option is best suited for your needs let's take a closer look at the advantages and drawbacks of each material. Lab-grown diamonds are created in highly advanced facilities where diamond crystals are grown from a mixture of carbon atoms under intense heat and pressure conditions similar to those found naturally occurring in mines. This process eliminates many of the environmental concerns associated with mining operations while still providing stones that possess all the physical qualities found in mined gems. Additionally, lab-created diamonds tend to be slightly cheaper than their mined counterparts due to lower production costs.
The one downside is that since these stones lack any history or provenance, some people may find them less desirable than traditionally mined varieties. Moissanite on the other hand offers superior optical properties such as tremendous brilliance and fire compared to natural diamonds; however, they do not typically fetch as high prices at resale value due to being seen by some gemstone experts as inferior quality when compared side by side against natural stones.
That being said there are plenty of admirers who appreciate Moissanite's eye-catching flashes of color even if they don't carry quite the same prestige status associated with traditional diamond jewelry items. In conclusion, choosing between lab-grown diamond or moissanite will ultimately depend upon preferences regarding price point versus value retention over time – but either way, you can rest assured knowing that both materials can provide beautiful pieces for your special day!